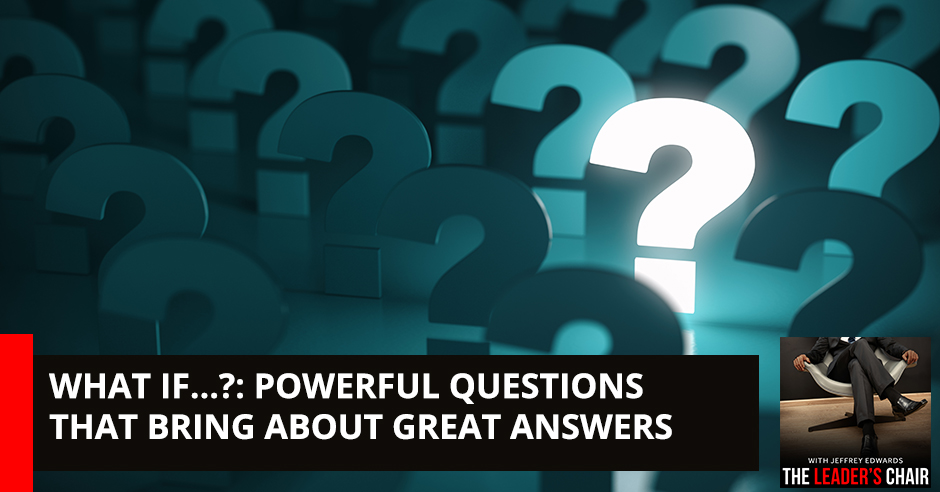 The power of asking questions is often overlooked in the leadership sphere. What distinguishes great leaders and visionaries is their ability to ask great questions which bring them to a world of possibility and opportunity. All great ideas start with the question "What if…"? All visionaries had the audacity to break the limits of their imagination and venture into the unknown. In this episode, Jeffrey Edwards tells us why the question "What if…" is so essential to effective leadership. Take a moment to listen and learn to appreciate the power of questions that unleash your full creative energy and influence the people around you to do the same.
—
Listen to the podcast here:
What If…?: Powerful Questions That Bring About Great Answers
The power of questions. Think of a leader, maybe two that you follow and that you respect and ask yourself what type of questions would they ask? What's the quality and depth of the questions that they pose to the general audience, to themselves that make them effective leaders, visionaries and catalyst in business, society and overall life? There may be people that you know personally in your families. It might be in your community or there might be people you work with, people you do business with, clients at your web.
It comes down to the old adage that if you want a quality answer, it starts off by asking quality questions. One part of the leadership that sometimes gets overlooked is the importance and the relevance of asking great questions because questions suggest curiosity and consider the world outside. How different is that world for you maybe 1, 2, 10 years ago? What do you ask yourself? How do you keep up with what's going on? How do you know what's going to be relevant to your business, life, career and family without asking those questions?
If you want quality answers, start by answering quality questions.
Click To Tweet
When you consider those who lead and those who inspire others to follow them or they inspire action and questions, especially those that pique the curiosity and inspire that action, there's one question that I'm going to throw out to you. I'm going to ask you to take serious consideration in how you respond. Here it is, "What if?" You may say to yourself, "What if what?" That's the key. It can be anything. Consider, "What if we could build a rocket ship that could take us to the moon? What if we could create some device that simulates air flight like birds that we could alter the way we travel from place to place? What if we design a motor that could replace the horse and buggy that will allow us to go further and farther and explore new areas, new territories? What if?" That's a foundational piece to many inventors out there, many leaders, many catalysts and even now we call disruptors in society. It's that challenge to the status quo that the what-if starts to question.
Consider that question for yourself. On a personal level, what if you applied for this job? What if you hired this one person? What if you look to rebrand your company in a different way, to go in a different direction or even perhaps to create a whole new product line? The opportunities and answers are endless. The great part about it is that there is no right answer to the "What if?" It's an opportunity. It's an invitation to take action, to consider a thought and be creative.
Creativity is the foundational part of looking at new solutions. If we were to do the same things over and over again without any new idea or thought, how will the results be? Albert Einstein was well-known for that quote way back when where he's saying the same mind that brought you to this situation or created the problem isn't going to be the same mind that's going to lead you to a solution. It's about encouraging you to ask the question, "What if?" It's through, "What if?" that we can see what's possible.
When you look beyond the situation and explore new ideas, be that curious manager of life or that passenger observer of life. Think of yourself back when you were three years old. Put yourself back at that time were everywhere you went, you looked up to that adult figure in your life and you'd be asking the questions, "Why? Why is the sky blue? Why is the grass green? Why do I have to go to bed so early in the day?" Every time you're asking why, it was about, "What is this world around me? What is this thing called life?" To quote Prince, "That gives meaning to who I am and how I fit in." When we consider the idea of what is possible and you consider what is available and possible for you.
What comes up for you? What are the opportunities that are there for you or at least are worth considering that you may not have considered? You may dismiss it because it didn't seem like the right time or wasn't even an idea. You move on. 'What if' fuels the imagination. Through the imagination, it fuels us to start to take action. It's hard to have an idea in your head without doing something with it. We may have 100 ideas. They can feel like they're off the wall, but we still have 100 ideas. You still have an opportunity to at least consider some alternatives.
Would you rather have alternatives to the situation, to the status quo? Would you rather stay in the status quo? You look back on the leaders that you follow, that you read, that you listened to, that you attend their seminars or training, read their books. How many of them stick to the status quo versus how many of them are asking the questions? They're curious as to what is possible. Questioning their environment, challenging or pushing the barriers of how it could change, how they can impact change or what they can do the change in the environment or even within themselves.
Sometimes it isn't always about the external. It can also be about asking yourself those questions. What if I now ask yourself, "What if I ate more vegetables each day? What if I got a few more hours of sleep? What if we, as a family, took vacation on a regular basis each year?" Where does that take you? What becomes possible on a personal level as well? When we look at the situations of life, life is a continual, gradual progression of new expanded opportunities, knowledge and information.
'What if…?' is an opportunity, an invitation to take action.
Click To Tweet
We have a lifetime to explore, a lifetime to learn and also a lifetime to extract, reconstruct and create at the same time. From a fundamental perspective, from a leadership perspective, think of what you have as an opportunity to inspire that within other people, to be that person who does ask the question that inspires others to start thinking of what is possible for them and allowing them permission to dream or to use more so to be creative, to use our imagination.
How often do you see now? It's a big paradox in a way because here I am talking about creativity, about possibilities and asking the 'what if.' At the same time, how we compensate people, how we recognize people in this world, it may vary in many ways by the solutions, having the answers and being the expert. It can be seen as if I'm asking the question, does that hurt my credibility? People will know that I may not have the answers. They may not see me as a value.
Here's a question. When you look at someone like Steve Jobs, a renowned entrepreneur and what he did, he asked the question at a time where portable music devices were coming out there. Sony owned the market. Sony had what was known as a Walkman, which was one of the first iterations of a portable music player, in which you use a cassette. I know for some of you, I'm talking a foreign language. I get, but I still have my cassettes. I used to walk around with this Sony Walkman. It was great. I listened to my music and then it was wonderful.
He came along with a device that you thought, "What if we had a device where people could record, download music and they can carry it around without having to cart around all these extra CDs or cassettes with them?" Out of that came what was known as the iPod. The iPod was a different size and it kept evolving over time. He asked the question. People were downloading stuff, downloading music and then iTunes became a part of that.
Be the person who asks the question that inspires others to start thinking of what is possible for them.
Click To Tweet
He got to that next level of what if we had this portable device? We merged that with the cell phone, which was coming out at that time as well, "Why don't we give them all in one?" Hence, we now have the iPhone. Being curious, exploring, asking questions, going out there and putting the questions out to the public as well. it's not only about asking yourself that question. It's more about effective leaders and influential leaders are the ones who are willing and have the courage to put the questions out to the public.
To challenge people in the way they think, to challenge the status quo, to be the destructor that gets people a wakeup call in some ways and say, "I never thought," see the outcomes from the input that comes from that. How many times can you look around your home, the car, our TVs, air flight, computers, everything that we're surrounded with? Start off at some point in time with someone saying, "What if?" When you consider where you are in your career, your business, your family and your community, how powerful could that question be in changing or at least altering?
The environment would be the dynamic of your situation to a point where it may lead to something new. It may lead to more people being in tune with your vision, more people taking action or be willing to have that extended, expanded discussion. The imitation is there. The world as we know it needs it. My challenge to you is this. Get out there, be curious and ask yourself, "What if?" Roll from there. Thank you for now. Be sure to check out the latest episode and for more information on this show as well. Whatever you do, be good and be well.